Comet Trio, the classic family dinghy..
Comfortable for the whole family, but light enough for two to handle. Can be deceptively fast even without the optional spinnaker.
When we say the Trio is an all rounder we really mean it.
Video of Comet Trio 505, Mk 2 rig
Designed by Phil Morrison, with classic hull lines the Trio is thoroughly modern, but retains some well-proven features of older dinghies. At 15′ the Trio has the length to give effortless performance, the ability to carry a large family, and to be quite steady and reassuring when the weather turns nasty! "Sit in" seats and a deep cockpit floor, combined with a relatively high boom make the Trio a superbly comfortable dinghy to sail.
The standard Trio has a slab-reefing mainsail and a furling jib, self-bailers and a rear-mainsheet, making her ideal as your first family dinghy. As you gain experience, options of centre mainsheet and asymmetric spinnaker turn the Trio into a surprisingly fast racer, although a most comfortable and forgiving one!
Note: The Mark 2 Trio is now being manufactured by Peak Dinghy. Glyn Rawson is producing hulls which now have a more flexible Selden mast and boom with all halyards internal. A new main available in laminate or in dacron as well as a better shaped geniker radially cut and better shaped. Geniker chutes are now fitted as standard replacing the bag system.
Mark 1's and 2's are being raced together at the Nationals and Inland Championships and separate prizes are awarded for both fleets.
For more details contact Glyn Rawson at Peak Dinghy based in Chesterfield www.peakdinghy.com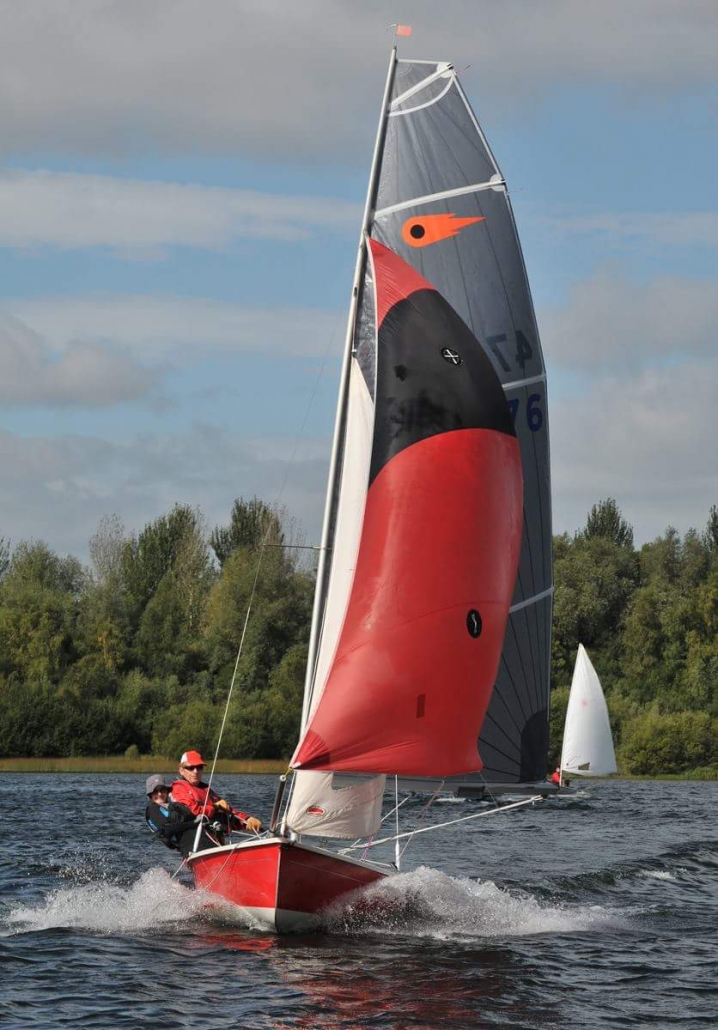 Trio Dimensions:
Length 15 ft 4.65m
Beam 6ft 1.83m
Sail Area Mainsail 100 sq ft 9.28 sq m
Sail Area Jib 35 sq ft 3.25 sq m
Sail Area Spinnaker 100 sq ft 9.28 sq m
Hull Weight 320 lb 145 kg
PY 1097 Mark 1 PY (experimental) 1056 Mark 2
Crew 2 – 5