Following the announcement from Peak Dinghies that they had asked North Sails to produce a white Dacron panel cut main to replicate the performance of the original Rowsell main sail, the CCCA set up a Mk1 Working Group composed of five Mk1 Trio owners to consider the suitability of the North main, jib and code zero spinnaker as replacements for the Rowsell sails.
The Working Group met on 24 Oct 20 at Whitefriars in the presence of a number of other Trio Sailors and compared the North main, jib and code zero spinnaker to a number of Rowsell Trio sails.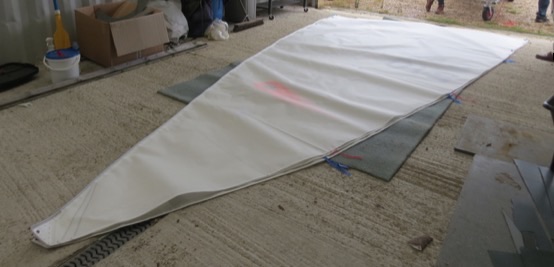 They concluded that the new North Mk1 Main, Jib and Code Zero Spinnaker are acceptable as ongoing replacements for the Rowsell sails on original Trios. 
The CCCA Committee met on 4 Nov 20  and accepted the conclusions of the Mk1 Working Group.
We are therefore pleased to confirm that we have advised Peak Dinghies that the North Mk1 main, the North Jib and the North Code Zero spinnaker can be marketed as Trio Mk1 sails. The CCCA will revise the Trio rules to reflect this change and the revised rules will be put to the Trio owners in due course.
May I take this opportunity to remind Trio owners that sails and all major components of the Trio must be bought through the licensed builder Peak Dinghies. Replacement, class legal and race legal sails for Comet Trios may now be ordered from Peak Dinghies.
Bob Horlock Secretary CCCA